A significant percentage of small to mid-size businesses have reported that they do not have a specific or defined budget in place for hiring additional staff as their company continues to expand. The lack of a clear budget can lead to various challenges and hinder the growth potential of these businesses.
The Struggle to Scale Operations Effectively
One of the primary reasons for this issue is that many small business owners often lack the resources and expertise to accurately project their future financial needs. As a result, they may struggle to allocate funds for hiring new employees, which can ultimately impede their ability to scale operations effectively.
The Importance of a Well-Defined Hiring Budget
Without a well-defined budget for hiring, businesses may face difficulties in attracting and retaining top talent. With a competitive job market, it's crucial for companies to offer competitive salaries and benefits packages to entice skilled professionals. However, without a proper budget in place, businesses may find themselves unable to match the compensation expectations of potential employees, leading to missed opportunities and possibly high employee turnover.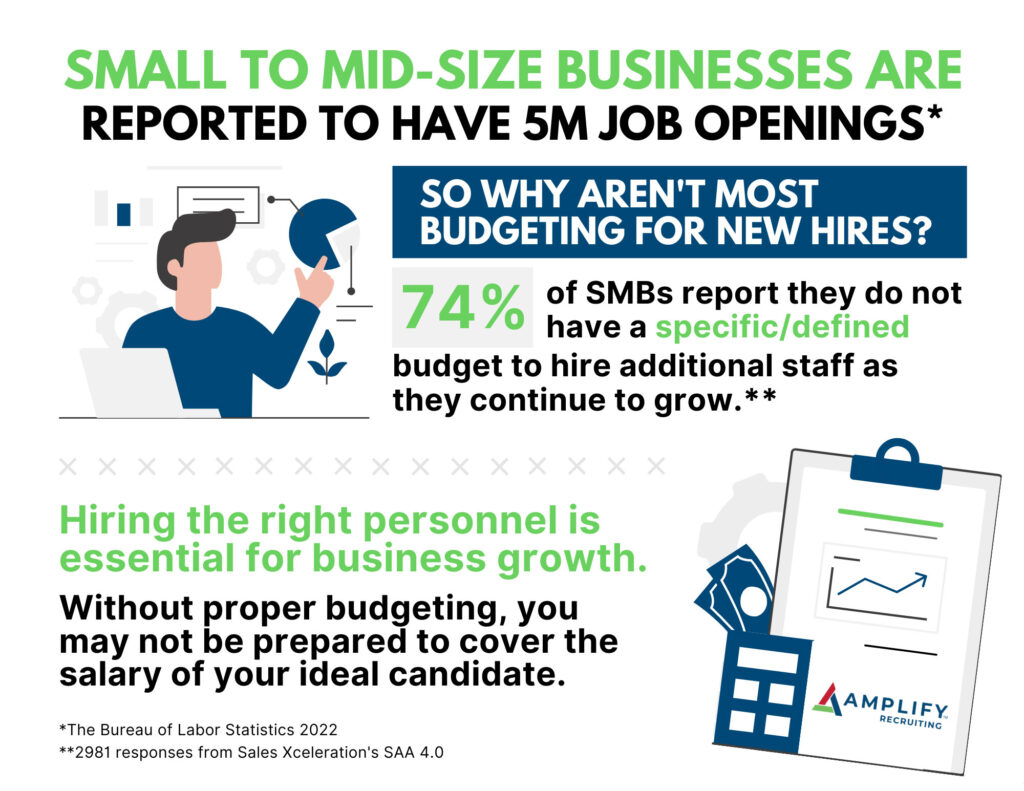 Impacting Employee Workload and Productivity
The absence of a hiring budget can result in overworked employees and decreased productivity. As the business grows, existing staff may be stretched thin, trying to cope with the increasing workload. This can lead to burnout, reduced overall efficiency, and even negative impacts on the quality of products or services provided.
Crafting a Strategic Hiring Plan
To address these issues, it's essential for small to mid-size businesses to develop a strategic hiring plan that includes a clearly outlined budget. This plan should take into account the company's growth projections, industry trends, and the current job market. By doing so, businesses can ensure that they are well-equipped to attract and retain the right talent, maintain a healthy work environment, and continue to grow in a sustainable manner.
The Bottom Line
The lack of a defined budget for hiring additional staff as a company grows highlights a critical area of concern. The reasons for this vary widely and range from a lack of understanding on the importance of budgeting, to not having the financial means to hire more employees, to simply not wanting to commit the resources until they are absolutely certain they need them. It is vital for these businesses to develop a comprehensive hiring plan, including a well-defined budget, to ensure continued success and growth in the long run. Unsure where to start? Contact Amplify Recruiting today at 844-874-7253 x 4 or [email protected] to get started.